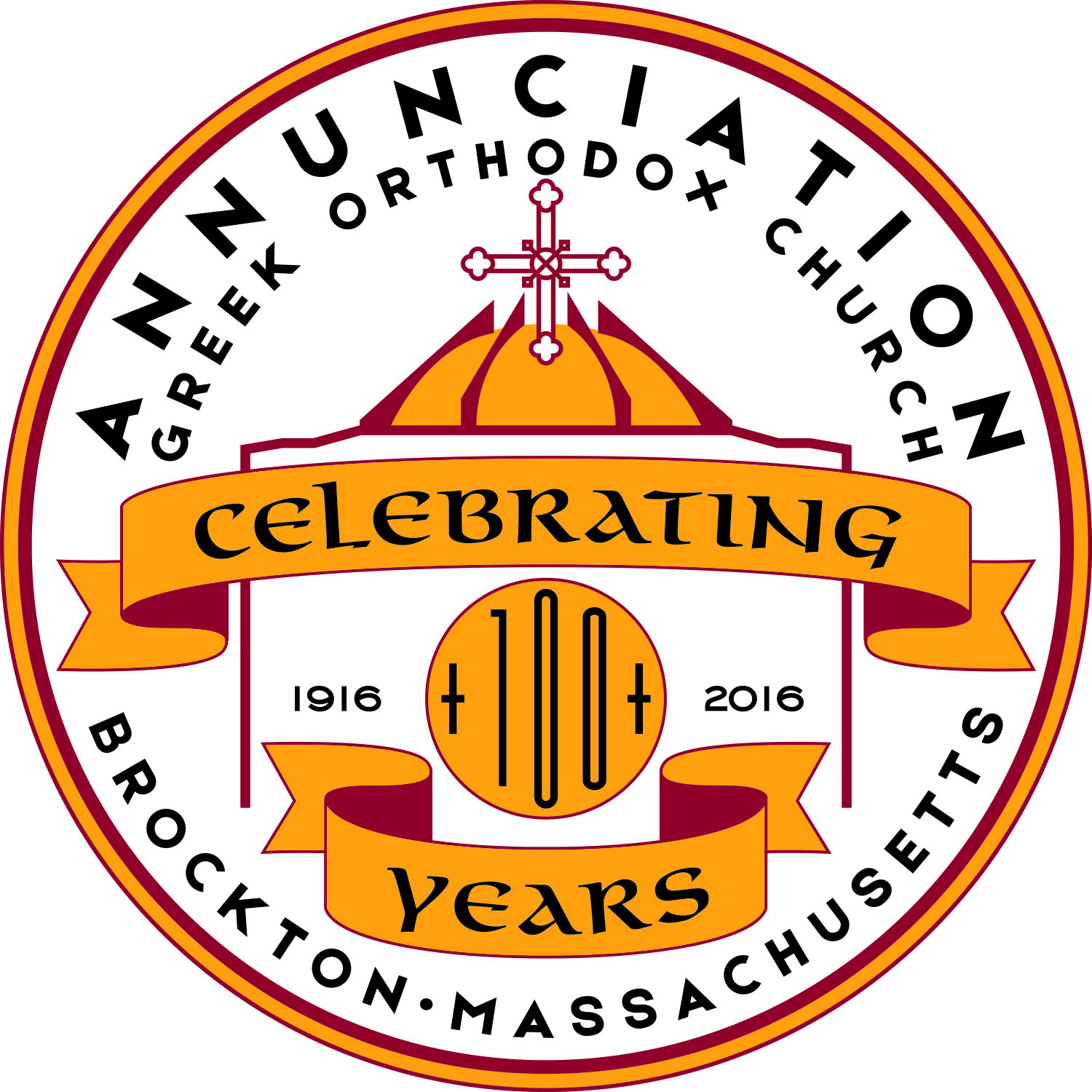 Beloved brothers and sisters in Christ,
Christ is in our midst!
Welcome to the website of the Annunciation Greek Orthodox Church of Brockton, MA. The Annunciation is within the Metropolis of Boston, which is part of the Greek Orthodox Archdiocese of America – one of the daughter Churches of the Ecumenical Patriarchate of Constantinople. The Church of the Annunciation is the only Eastern Orthodox Church in Brockton and its surrounding communities.
At the Annunciation, we conduct the full cycle of Sunday services, commencing with Great Vespers on Saturday evenings through Orthros (Matins) and the Divine Liturgy on Sunday mornings. Throughout the liturgical year, we also celebrate the feasts of our Lord and the Theotokos (Mother of God), as well as the feasts of all major saints of the Church. From fall through spring, Small Vespers are also celebrated on most Wednesdays nights, with adult religious education sessions following the service.
We welcome all to worship with us, whether you are visiting the area or live locally. May God bless you!
†Fr. Anthony Evangelatos
Presbyter
---
Upcoming Services and Events
Melrose Cemetery Trisagion
May 30 10 am
Evergreen Cemetery (Stoughton) Trisagion
May 30 10:45 am
Knollwood Cemetery (Canton) Trisagion
May 30 11:30 am
Abbreviated Paraklesis followed by Adult Religious Education
Jun 1 7 pm
Sunday of the Blind Man Divine Liturgy (summer hours begin)
Jun 5 9:45 am
Annunciation Spotlight

---
Fr. Anthony's June 2016 Message (reprinted from June 2011)
Later this month we will be celebrating the coming of the Holy Spirit upon the Church on the great day of Pentecost. It is difficult for us to grasp the reality of the presence of the Holy Spirit in the Church, simply because He is not visible. We cannot see nor touch the Holy Spirit, so we struggle to understand His power and omnipresence. The reality though, is that the Spirit is truly present everywhere and gives life and breath to everything, most especially the Church.
St. Basil the Great has written a wonderful treatise titled, "On the Holy Spirit." Chapter 9 is titled, "Distinctive ideas concerning the Spirit which follow the teachings of Scripture" (the translation used here: St. Vladimir's Seminary Press, New York, 1980). He starts out this chapter by saying, "We shall now examine what kinds of ideas about the Spirit we hold in common, as well as those which we have gathered from the Scriptures, or received from the unwritten tradition of the Fathers."
St. Basil then gives the following description of the Holy Spirit: "First of all, who can listen to the Spirit's titles and not be lifted up in his soul? Whose thoughts would not be raised to contemplate the supreme nature? He is called the Spirit of God, the Spirit of truth who proceeds from the Father, right Spirit, willing Spirit. His first and most proper title is Holy Spirit, a name most especially appropriate to everything which is incorporeal, purely immaterial, and indivisible." These words alone begin to draw our attention to the supreme holiness of the Holy Spirit, whose source is God the Father. St. Basil goes on to say, "When we hear the word 'spirit' it is impossible for us to conceive of something whose nature can be circumscribed or is subject to change or variation, or is like a creature in any way. Instead, we are compelled to direct our thoughts on high, and to think of an intelligent being, boundless in power, of unlimited greatness, generous in goodness, whom time cannot measure."
St. Basil continues his description of the Holy Spirit with these most eloquent, poetic terms: "All things thirsting for holiness turn to Him; everything living in virtue never turns away from Him. He waters them with His life-giving breath and helps them reach their proper fulfillment. He perfects all other things, and Himself lacks nothing; He gives life to all things, and is never depleted. He does not increase by additions, but is always complete, self-established, and present everywhere."
Upon hearing these words, we should be awestruck as we meditate on the multiple gifts of the Holy Spirit which we received through Holy Chrismation after being baptized. St. Basil's description continues: "He is the source of sanctification, spiritual light, who gives illumination to everyone using His powers to search for the truth – and the illumination He gives is Himself. His nature is unapproachable; only through His goodness are we able to draw near it." These words clearly illustrate the power of Holy Chrismation. To make use of these gifts granted through Chrismation, however, one must have faith, as St. Basil goes on to say: "He fills all things with His power, but only those who are worthy may share it. He distributes His energy in proportion to the faith of the recipient, not confining it to a single share."
When we are chrismated we undergo our own personal Pentecost, sharing in this original outpouring of the Holy Spirit which can never be depleted. St. Basil concludes his description by speaking of the multiple outpourings of the Spirit: "He is simple in being; His powers are manifold: they are wholly present everywhere and in everything. He is distributed but does not change. He is shared, yet remains whole. Consider the analogy of the sunbeam: each person upon whom its kindly lights falls rejoices as if the sun existed for him alone, yet it illumines land and sea, and is master of the atmosphere. In the same way, the Spirit is given to each one who receives Him as if He were the possession of that person alone, yet He sends forth sufficient grace to fill all the universe. Everything that partakes of His grace is filled with joy according to its capacity – the capacity of its nature, not of His power."
Beloved in Christ, hopefully you have been uplifted by these spiritually edifying comments of St. Basil, as we approach the holy day of Pentecost. I pray that the Holy Spirit may continue to sanctify each and every one of us, and to guide us in our spiritual lives as we continue our journey to eternal life in the next world.
In Christ,
†Fr. Anthony
---
Church Services Hours
Sundays:
Orthros at 8:45 am; Divine Liturgy at 10:00 am
Weekdays:
Orthros at 9:00 am; Divine Liturgy at 10:00 am
Great Vespers:
Saturdays at 6:00 pm
---
Online Bill Pay
The Annunciation Church offers an online bill pay service for the convenience of our parishioners. Click on the links below to fulfill your Stewardship or make other payments by credit card.
Donations (in memory of, floral, other)
---
Contact Information
Annunciation Greek Orthodox Church
457 Oak Street
Brockton, MA 02301
508-559-0910
Directions:
From Route 24 take Exit 18B (Route 27 North - Stoughton).
At lights take a right on to Pearl Street.
At second set of lights take a right on to Oak Street.
Drive 1 mile. The church is on the left. Welcome!
Office hours:
Monday, Wednesday and Friday from 10:00 am to 2:00 pm
Tuesday and Thursday from 9:00 am to 1:00 pm
Rev. Fr. Anthony Evangelatos - Presiding Priest
priest@annunciationbrockton.org
Office - office@annunciationbrockton.org
Join the Annunciation Church - Brockton E-mail List »
For questions or comments concerning this web site please contact the Webmaster at
helpdesk@annunciationbrockton.org
Online Chapel