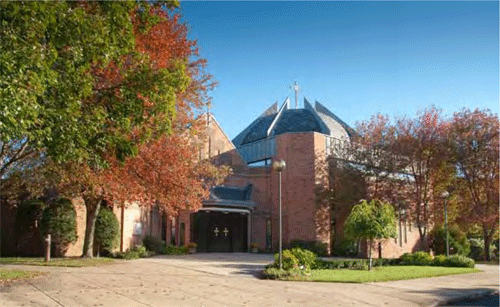 Beloved brothers and sisters in Christ,
Christ is in our midst!
Welcome to the website of the Annunciation Greek Orthodox Church of Brockton, MA. The Annunciation is within the Metropolis of Boston, which is part of the Greek Orthodox Archdiocese of America – one of the daughter Churches of the Ecumenical Patriarchate of Constantinople. The Church of the Annunciation is the only Eastern Orthodox Church in Brockton and its surrounding communities.
At the Annunciation, we conduct the full cycle of Sunday services, commencing with Great Vespers on Saturday evenings through Orthros (Matins) and the Divine Liturgy on Sunday mornings. Throughout the liturgical year, we also celebrate the feasts of our Lord and the Theotokos (Mother of God), as well as the feasts of all major saints of the Church. From fall through spring, Small Vespers are also celebrated on most Wednesdays nights, with adult religious education sessions following the service.
We welcome all to worship with us, whether you are visiting the area or live locally. May God bless you!
†Fr. Anthony Evangelatos
Presbyter
---
Upcoming Services and Events
14th Sunday of Matthew Divine Liturgy
Sep 6 9:45 am
Labor Day - Office Closed
Sep 7 9 am
Nativity of the Theotokos Divine Liturgy
Sep 8 10 am
Great Vespers
Sep 12 6 pm
Annunciation Spotlight
Save the Date!
Greek Festival 2015
September 17, 18, 19 & 20
Join us for the Premier Greek Festival on the South Shore!
---
Fr. Anthony's September 2015 Message
Beloved in Christ,
As you well know, September 1st is the commencement of the new ecclesiastical year. This particular month has two major feast days – the Nativity of the Theotokos on 9/8, and the Universal Elevation of the Holy Cross on 9/14. Each ecclesiastical year is a repetition of our annual spiritual journey toward Holy Pascha, which is the liturgical climax of the year. After Pascha, we prepare for the feasts of the Ascension and Pentecost, and continue through the summer months bringing us to the end of the ecclesiastical year on 8/31. Each year we relive our salvation history liturgically, as presented by our Holy Orthodox Church. As we enter the new ecclesiastical year, let us pick up our own crosses if we have spiritually laid them aside, and begin a new journey following Christ toward Golgotha, the Tomb, and life eternal.
So just what do we mean by taking up our cross and following the Lord? Let us begin by reflecting on what Holy Scripture says about this… "And he who does not take his cross and follow after Me is not worthy of Me." (Mt 10:38). "Whoever desires to come after Me, let him deny himself, and take up his cross, and follow Me." (Mk 8:34). In the first passage from Matthew, we see an emphasis on worthiness. To follow Christ, we must be worthy of Him; there must be obedience toward His divine command to follow Him. Obviously, following Christ is a life-long calling – not something approached superficially.
In the second quote from Mark, the emphasis is on self denial. We can't truly follow Christ if we are married to the things of this world. To follow Christ, one must continually have one's eye on the goal of eternal life, while simultaneously living a sacrificial life to Christ while on the journey to the Kingdom. To carry one's cross in the Christian sense, is to share in the sufferings of Christ. Whatever we have to deal with in this life is by the will of God, and for our spiritual benefit, even though that may not be clear to us. The carrying of our cross is not meant to be punitive, but salvific, for Christ never seeks to destroy and punish His children, but to bring them to salvation in His Kingdom.
Another important aspect of carrying one's cross in imitation of Christ, is that the Holy Cross of Christ is the destroyer of passions. As a weapon of great spiritual benefit, we must take up our cross in order to fight the enemy of souls – Satan and his host of demons who hate mankind, and wish to see us lose our way on the journey toward salvation. Hear the beautiful words of the exapolsteilarion hymn from the feast of the Holy Cross:
The Cross is the guardian of the whole world; the Cross is the support and staff of the faithful; the Cross is the beauty of the Church of Christ; the Cross is the mighty strength of kings; the Cross is the glory of Angels; it is the wounding of demons.
Beloved in Christ, with God on our side we have nothing to fear. This is why it is important to carry the cross in life that Christ gave us, and to follow Him, our Lord and Savior. If we constantly pick up other symbols of this world and not our cross, how can we expect the Lord to be there for us, and to guide us along the straight and narrow path toward salvation? We may think that it is too difficult to bear the cross God gave us; that it is just too heavy a burden, so we simply put it down, so to speak, and begin following other paths in life.
I would like to share a short quote that has been circulating in the recent past, which beautifully sums up the perceived difficulty of many regarding bearing one's cross:
A young monk had been struggling in the spiritual life. His cross, he thought, was too heavy, too difficult to bear. He complained about it endlessly. One night he had a dream. God came to him in this dream and said, "Come, if this is too hard, choose a new cross to carry."
The monk walked into a room filled with crosses (imagine that room of chalices from Indiana Jones and the Last Crusade). He looked around for a while—many were huge, some were metal, some wooden and carved, some had nails sticking out from their cross beams, some were even covered in blood. He was taken aback. He looked around, sizing them up, mentally comparing their weight. Finally, he found it – the perfect little cross tucked away in a corner. It was silver, finely carved, and he picked it up easily.
"I found one." he called out.
God simply replied, "But that's the cross you came here with."
†Fr. Anthony
---
Church Services Hours
Sundays:
Orthros at 8:45 am; Divine Liturgy at 10:00 am
Weekdays:
Orthros at 9:00 am; Divine Liturgy at 10:00 am
Great Vespers:
Saturdays at 6:00 pm
---
Online Bill Pay
The Annunciation Church offers an online bill pay service for the convenience of our parishioners. Click on the links below to fulfill your Stewardship or make other payments by credit card.
Donations (in memory of, floral, other)
---
Contact Information
Annunciation Greek Orthodox Church
457 Oak Street
Brockton, MA 02301
508-559-0910
Directions:
From Route 24 take Exit 18B (Route 27 North - Stoughton).
At lights take a right on to Pearl Street.
At second set of lights take a right on to Oak Street.
Drive 1 mile. The church is on the left. Welcome!
Office hours:
Monday, Wednesday and Friday from 10:00 am to 2:00 pm
Tuesday and Thursday from 9:00 am to 1:00 pm
Rev. Fr. Anthony Evangelatos - Presiding Priest
priest@annunciationbrockton.org
Office - office@annunciationbrockton.org
Join the Annunciation Church - Brockton E-mail List »
For questions or comments concerning this web site please contact the Webmaster at
helpdesk@annunciationbrockton.org
Online Chapel