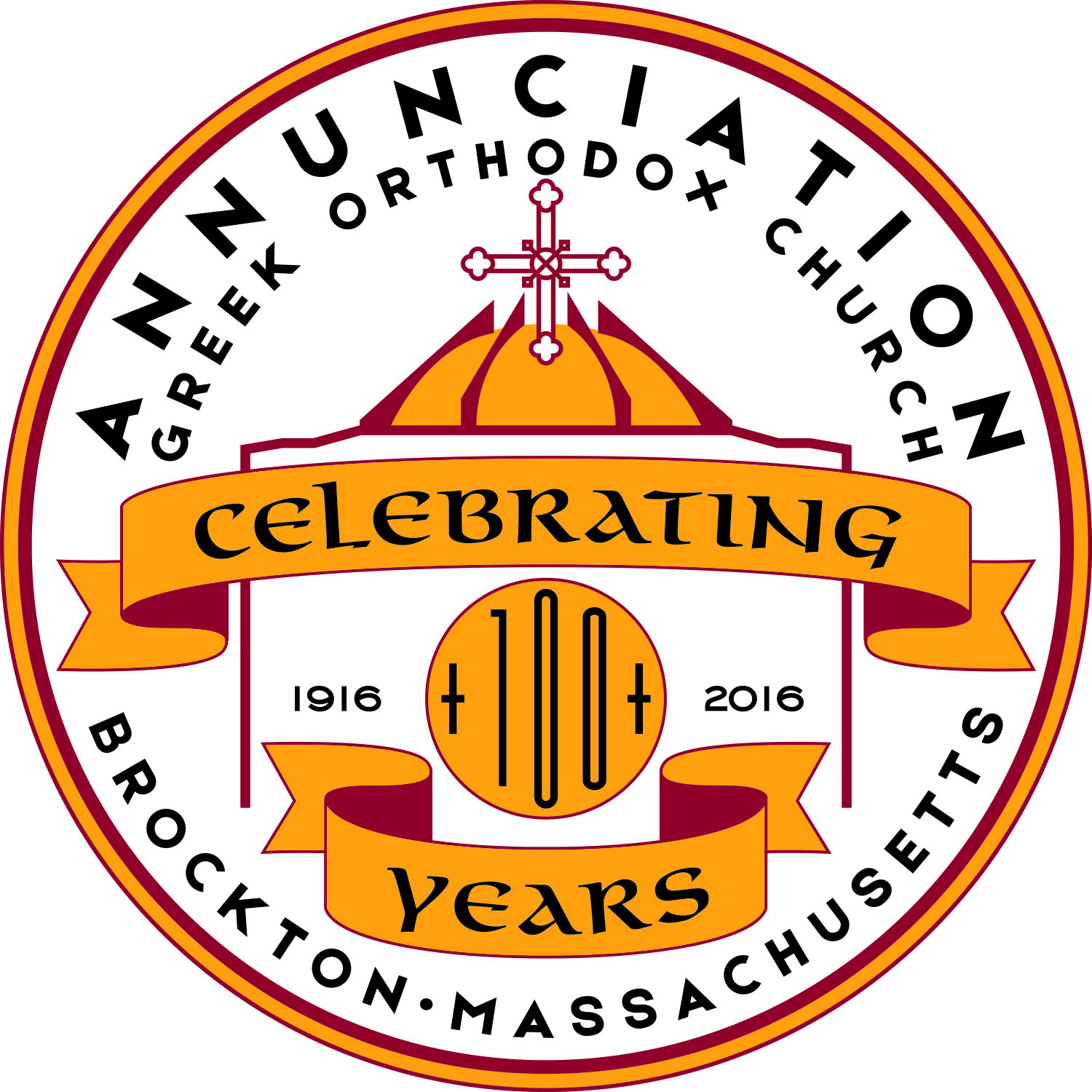 Beloved brothers and sisters in Christ,
Christ is in our midst!
Welcome to the website of the Annunciation Greek Orthodox Church of Brockton, MA. The Annunciation is within the Metropolis of Boston, which is part of the Greek Orthodox Archdiocese of America – one of the daughter Churches of the Ecumenical Patriarchate of Constantinople. The Church of the Annunciation is the only Eastern Orthodox Church in Brockton and its surrounding communities.
At the Annunciation, we conduct the full cycle of Sunday services, commencing with Great Vespers on Saturday evenings through Orthros (Matins) and the Divine Liturgy on Sunday mornings. Throughout the liturgical year, we also celebrate the feasts of our Lord and the Theotokos (Mother of God), as well as the feasts of all major saints of the Church. From fall through spring, Small Vespers are also celebrated on most Wednesdays nights, with adult religious education sessions following the service.
We welcome all to worship with us, whether you are visiting the area or live locally. May God bless you!
†Fr. Anthony Evangelatos
Presbyter
---
Upcoming Services and Events
Paschal Vespers followed by Adult Religious Education
May 4 7 pm
Hungry Friends Fundraiser & Dinner
May 5 6 pm
Feast of the Life-Giving Spring of the Theotokos Divine Liturgy
May 6 10 am
Annunciation Spotlight

---
Holy Week & Pascha 2016
Please click here to download the Holy Week/Pascha schedule for 2016 »
---
Hungry Friends Raffle and Dinner
Our annual fundraiser will be held on Thursday, May 5th at the Church Community Center.
$9,000 in prizes will be awarded, including a $3,000 grand prize!
Donation is $125 per ticket and $25 for additional guests.
6:00 pm - Cocktails and Appetizers
7:00 pm - Dinner (presented by the Arvanitidis Family and Westside Foods)
8:00 pm - Raffle
Please contact any Parish Council member for tickets or call the Church Office at 508-559-0910
---
Fr. Anthony's May 2016 Message
Χριστός Ανέστη! Christ is Risen!
Beloved in Christ, we have once again reached the holiest and greatest feast of the ecclesiastical year – the Lord's Great and Holy Pascha. Many weeks of preparation have preceded this holy feast, and hopefully, those of us who prepared ourselves spiritually and physically during the Lenten period, have grown further in Christ and have further ascended the spiritual ladder toward salvation. After all, this is the goal of every Orthodox Christian. Let us all thank God for our Holy Orthodox Church and her Holy Tradition, which offers us every opportunity for spiritual health and growth, most especially during Great Lent and the celebration of Holy Pascha.
Our sense of gratitude and love for our Orthodox faith needs to grow even stronger as we proceed into the future. As the world around us becomes more secular, Christianity – especially its more traditional and conservative branches – is being either ignored, criticized, or even ridiculed as antiquated and irrelevant. Even worse, some Christian denominations have "watered down" basic Christian theology, and have allowed societal mores and trends to direct their path. Another sad reality is that many people who came from Christian backgrounds have little or no connection to their Christian heritage. One major example of this complete disconnect to Christianity is the feast of Christmas, which has all but lost any aspect of what it is truly about. You have heard me speak of this many times, as well as in written messages. Even worse is the complete obliteration of the meaning of Easter – the primary and most important Christian feast.
In preparation for the Lenten suppers after each Wednesday Presanctified Liturgy, I had searched for appropriate YouTube videos on various aspects of our Orthodox faith. Through one of my searches I came across videos of Evangelical Christians interviewing random people on the street with one basic question: "Do you know what Easter is about?" Sadly, many of those interviewed either had no idea, or thought that it was a special celebration focused on children so that they can receive new outfits, hunt for eggs, receive candy, see the Easter bunny, and other such things. A few people actually knew that it was a Christian holiday, but weren't clear on the purpose of the feast, guessing that it may have to do with the birth of Christ (clear proof that many have no idea that Christmas celebrates His birth!).
This is why, beloved, we need to give thanks daily for the purity and clarity of our Orthodox faith. There is no way that an Orthodox Christian, or a potential convert for that matter, could mistake anything about the meaning of Holy Pascha as presented and celebrated in the Orthodox Church. As parents, the only mistake we could make in this regard is to be overly influenced bythe secular mindset of friends and even family, which could lead to the spiritual misguidance of our children especially during their most formative years.
Having said this, I'm not implying that an Easter egg hunt and the receipt of candy should have no place in our children's Paschal celebration. These things can be done as a supplement to the true celebration of the feast, which begins in church and follows us home. The Church's traditions are what will have the greatest impact, and that our children will remember into adulthood and hopefully carry on with their own children, God willing.
Those of us who were raised with a correct understanding of the meaning of Pascha, and were brought to Holy Week services from a young age, are those who are today's regular participants in these services, and church services in general. Fortunately there are also many of us who were not exposed to a great extent to the Church and her traditions, but have also learned to love and appreciate the liturgical life of the Church, especially the period of Great Lent, Holy Week, and Pascha. I can speak to this very personally because I am one of them. Sometimes many are surprised to hear that priests do not always come from the ideal ecclesiastical background that one would expect. Due to family circumstances, my family did not attend church on a regular basis. After my father's work schedule underwent a major change, we began to attend regularly when I was 12 years old. From that point on, the Church became a major part of our family's life.
The point here is that everyone can benefit by turning to the Church in a major way at any stage of one's life. However, it must be re-emphasized that the best and most influential time for church exposure is in early childhood. In our Orthodox tradition, Lent and Holy Week comprise the period with the greatest impact on us spiritually. Families would greatly benefit from what the Church offers during this sacred season. Adults who have not yet "dived in with both feet" may want to start getting their feet wet and eventually jump in all the way. Unless we take this approach, we and our children run the risk of becoming secularized and indifferent toward our Holy Church, which has been established by Christ Himself for our salvation, and will remain until His glorious Second Coming.
So again, let us rejoice in the great treasure we have through our Orthodox faith. And let us remain faithful to our Holy Tradition – our doctrines, dogmas, and liturgical practices – so that we will always know who we are and what we believe as Orthodox Christians.
In the Risen Christ,
†Fr. Anthony
---
Church Services Hours
Sundays:
Orthros at 8:45 am; Divine Liturgy at 10:00 am
Weekdays:
Orthros at 9:00 am; Divine Liturgy at 10:00 am
Great Vespers:
Saturdays at 6:00 pm
---
Online Bill Pay
The Annunciation Church offers an online bill pay service for the convenience of our parishioners. Click on the links below to fulfill your Stewardship or make other payments by credit card.
Donations (in memory of, floral, other)
---
Contact Information
Annunciation Greek Orthodox Church
457 Oak Street
Brockton, MA 02301
508-559-0910
Directions:
From Route 24 take Exit 18B (Route 27 North - Stoughton).
At lights take a right on to Pearl Street.
At second set of lights take a right on to Oak Street.
Drive 1 mile. The church is on the left. Welcome!
Office hours:
Monday, Wednesday and Friday from 10:00 am to 2:00 pm
Tuesday and Thursday from 9:00 am to 1:00 pm
Rev. Fr. Anthony Evangelatos - Presiding Priest
priest@annunciationbrockton.org
Office - office@annunciationbrockton.org
Join the Annunciation Church - Brockton E-mail List »
For questions or comments concerning this web site please contact the Webmaster at
helpdesk@annunciationbrockton.org
Online Chapel