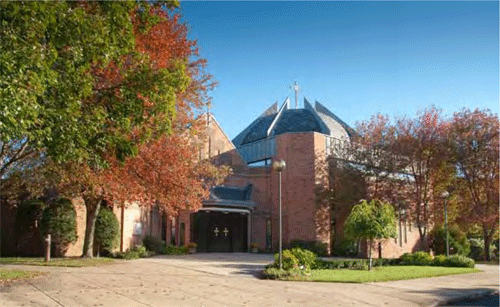 Beloved brothers and sisters in Christ,
Christ is in our midst!
Welcome to the website of the Annunciation Greek Orthodox Church of Brockton, MA. The Annunciation is within the Metropolis of Boston, which is part of the Greek Orthodox Archdiocese of America – one of the daughter Churches of the Ecumenical Patriarchate of Constantinople. The Church of the Annunciation is the only Eastern Orthodox Church in Brockton and its surrounding communities.
At the Annunciation, we conduct the full cycle of Sunday services, commencing with Great Vespers on Saturday evenings through Orthros (Matins) and the Divine Liturgy on Sunday mornings. Throughout the liturgical year, we also celebrate the feasts of our Lord and the Theotokos (Mother of God), as well as the feasts of all major saints of the Church. From fall through spring, Small Vespers are also celebrated on most Wednesdays nights, with adult religious education sessions following the service.
We welcome all to worship with us, whether you are visiting the area or live locally. May God bless you!
†Fr. Anthony Evangelatos
Presbyter
---
Upcoming Services and Events
The Entrance of the Theotokos Divine Liturgy
Nov 21 10 am
No Vespers of Class this evening
Nov 22 7 pm
There will be NO Vespers this evening
Nov 25 6 pm
13th Sunday of Luke Divine Liturgy
Nov 26 10 am
Abbreviated Orthros followed by Adult Religious Education
Nov 29 10 am
Annunciation Spotlight

June 19-26, 2016. See the official documents, news, photos, video, and more »
---
Fr. Anthony's November 2017 Message
Beloved in Christ,
Obviously, we all know that our beloved parish is dedicated to the feast of the Annunciation of the Theotokos by the Archangel Gabriel. This messenger of God – which is the meaning of the word "angel" in the original Greek – is the herald of the coming of Christ into the world. Gabriel brought the glad tidings of joy to the Theotokos, and thereby to all mankind. Ever since the incarnation of Jesus Christ and His subsequent death and resurrection, the Church of Christ has been proclaiming the good news to every generation up to our very own. The question we must ask ourselves is whether we too, have become heralds of the Gospel of Christ.
First, let's be clear on what it means to be a herald of the Gospel in the Orthodox sense. This does not mean that we should be standing in the middle of a shopping mall or in front of Walmart, proclaiming the good news of Christ with our loudest voice. Being heralds of the Gospel is much more than speaking about Christ and His salvific plan for mankind. It does, however, have everything to do with living the Word of God in the most exemplary fashion.
A true herald of the Gospel of Christ, first and foremost, fully lives the liturgical and sacramental life of the Church. To be a true member of the Body of Christ, we must act as an integral part of the Body, which begins with liturgical worship. Christian worship has historically been communal. Just as the human body cannot fully function without all its members and organs, so it is with the Body of Christ. In church, all of us together experience both the Word of God through Holy Scripture, as well as partake of the mystical Body and Blood of our Lord through the Holy Eucharist. We hear God's Word with one ear, and we consume the Lord's Body and Blood with one mouth.
Being that God has created us with a free will, we don't, however, leave church robotically programmed to think, speak, and act in the same manner. The weekdays in between each Sunday liturgy present each one of us with our on-going challenge of how we apply the gospel message to our daily lives. Being a herald of the Gospel of Christ on a daily basis involves our interpersonal relationships, through which we have the opportunity to be examples of the life of Christ. As Orthodox Christians, this is the strongest message that we can share with our fellow man.
Now, to be an imitator of Christ, we must recognize His various attributes as presented to us in the holy gospel. Most important is humility. Our Lord did not come into the world to "make a splash," as we would say today. He clearly taught us that He came to serve and not to be served. Christ also taught us that we should treat others as we would like to be treated. It is clear, therefore, that a true follower of Christ should always think of others before himself. If we wish to represent Christ and His Gospel to those around us, we must acquire humility and seek to love and help our neighbors, whoever they may be.
The Lord also consistently showed mercy and compassion to those He encountered in His ministry. Although we have not been given the grace to physically heal those who are ill, we can still be healers of the soul through the compassion and mercy we show to those who suffer. We also constantly encounter in the holy gospels that the Lord did not judge his fellow man, but rather, showed forgiveness and mercy toward people's weakness and shortcomings.
Let us remember that Christ also taught us the importance of prayer and fasting, which are virtues very central to the spiritual life of an Orthodox Christian. Besides our liturgical and sacramental obligations, praying and also fasting when required, is how we stay connected to God outside of communal worship.
My brothers and sisters in Christ, the following passage from St. Paul's letter to the Philippians, sums up very well how all of us as members of the Body of Christ can be heralds of the Gospel.
Brethren, let your manner of life be worthy of the gospel of Christ, so that whether I come and see you or am absent, I may hear of you that you stand firm in one spirit, with one mind striving side by side for the faith of the gospel, and not frightened in anything by your opponents… complete my joy by being of the same mind, having the same love, being in full accord and of one mind. Do nothing from selfishness or conceit, but in humility count others better than yourselves. Let each of you look not only to his own interests but also to the interests of others. (Philippians 1:27-28; 2:2-4)
May these beautiful and inspiring words of St. Paul be an inspiration to all of us as well. We, too, can share the message of the Gospel through our words to those who are willing to listen. In the right time and situation, it is a blessing to share our faith with others, especially those who may be weakened in their faith through illness, tragedy, or plain apathy. But most important is living an exemplary life, so that all those around us will clearly see what it means to be an Orthodox Christian. I pray that you may all be blessed and guided by the Holy Spirit, so that you can strive to live according to the Gospel of Christ every day of your lives.
In Christ's love,
†Fr. Anthony
---
Church Services Hours
Sundays:
Orthros at 8:30 am; Divine Liturgy at 9:45 am
Weekdays:
Orthros at 9:00 am; Divine Liturgy at 10:00 am
Great Vespers:
Saturdays at 6:00 pm
---
Online Bill Pay
The Annunciation Church offers an online bill pay service for the convenience of our parishioners. Click on the links below to fulfill your Stewardship or make other payments by credit card.
Donations (in memory of, floral, other)
---
Contact Information
Annunciation Greek Orthodox Church
457 Oak Street
Brockton, MA 02301
508-559-0910
Directions:
From Route 24 take Exit 18B (Route 27 North - Stoughton).
At lights take a right on to Pearl Street.
At second set of lights take a right on to Oak Street.
Drive 1 mile. The church is on the left. Welcome!
Office hours:
Monday, Wednesday and Friday from 10:00 am to 2:00 pm
Tuesday and Thursday from 9:00 am to 1:00 pm
Rev. Fr. Anthony Evangelatos - Presiding Priest
priest@annunciationbrockton.org
Office - office@annunciationbrockton.org
Join the Annunciation Church - Brockton E-mail List »
For questions or comments concerning this web site please contact the Webmaster at
helpdesk@annunciationbrockton.org
Online Chapel