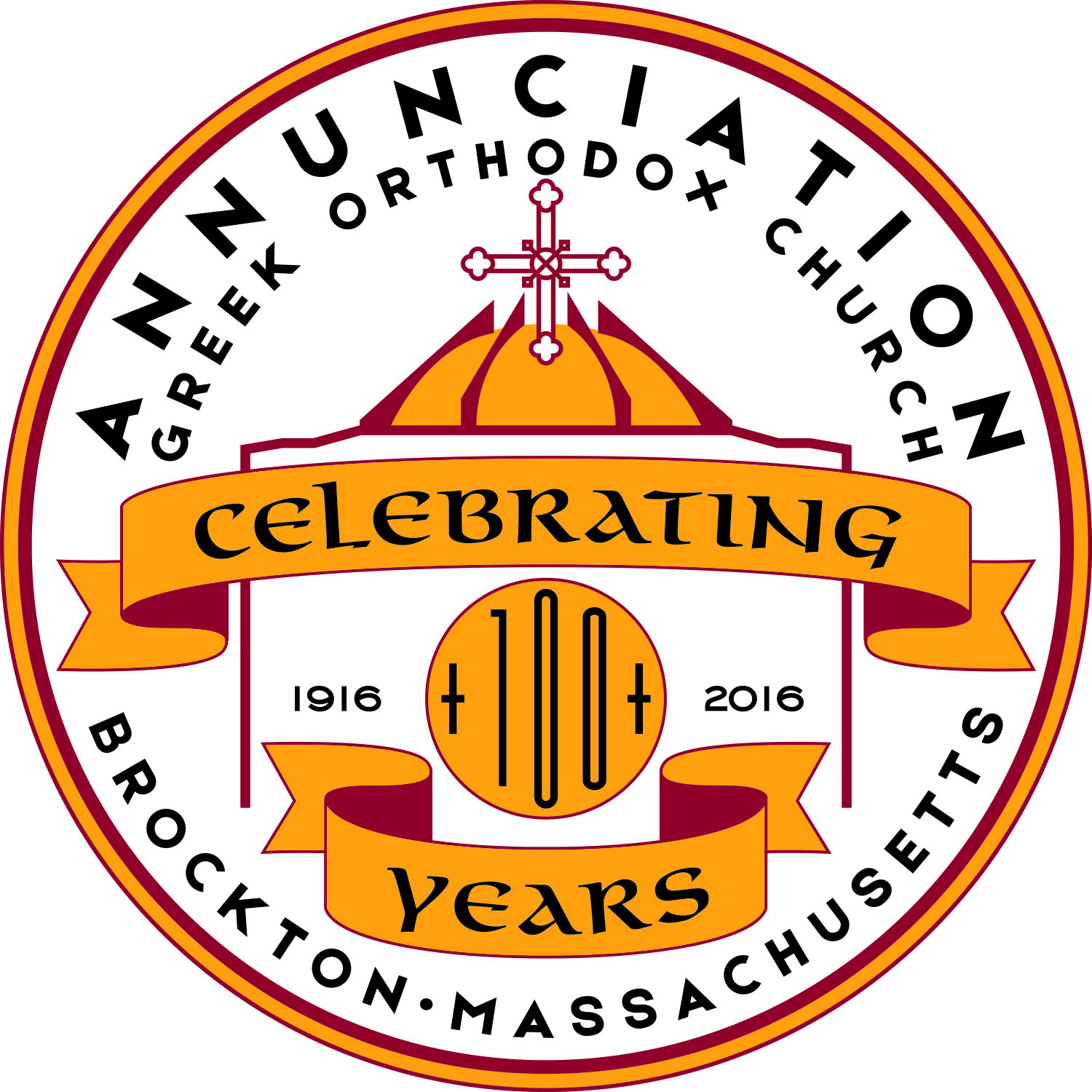 Beloved brothers and sisters in Christ,
Christ is in our midst!
Welcome to the website of the Annunciation Greek Orthodox Church of Brockton, MA. The Annunciation is within the Metropolis of Boston, which is part of the Greek Orthodox Archdiocese of America – one of the daughter Churches of the Ecumenical Patriarchate of Constantinople. The Church of the Annunciation is the only Eastern Orthodox Church in Brockton and its surrounding communities.
At the Annunciation, we conduct the full cycle of Sunday services, commencing with Great Vespers on Saturday evenings through Orthros (Matins) and the Divine Liturgy on Sunday mornings. Throughout the liturgical year, we also celebrate the feasts of our Lord and the Theotokos (Mother of God), as well as the feasts of all major saints of the Church. From fall through spring, Small Vespers are also celebrated on most Wednesdays nights, with adult religious education sessions following the service.
We welcome all to worship with us, whether you are visiting the area or live locally. May God bless you!
†Fr. Anthony Evangelatos
Presbyter
---
Upcoming Services and Events
Great Vespers
Aug 27 6 pm
10th Sunday of Matthew Divine Liturgy
Aug 28 9:45 am
Beheading of St. John the Forerunner (no services; Fr. Anthony on vacation through 9/7)
Aug 29 9 am
No Vespers today (Fr. Anthony is on vacation)
Sep 3 6 pm
11th Sunday of Matthew Divine Liturgy
Sep 4 10 am
Annunciation Spotlight

June 19-26, 2016. See the official documents, news, photos, video, and more »
---
Greek Festival 2016
Mark your calendars...preparations for Greek Festival 2016 are already well underway!
Join us from Thursday, September 15 through Sunday, September 18 for the premier Greek Festival on the South Shore!
---
Fr. Anthony's September 2016 Message (revised from September 2008)
Beloved brethren in Christ,
Another new ecclesiastical year is upon us as we enter the glorious month of September. Once again we begin the annual liturgical cycle of our holy Orthodox Church. Since everything in life is cyclical, it is quite logical that the Church's liturgical life should also be cyclical. Each year we celebrate the same feast days, repeat the same scriptural readings, and hear the same seasonal hymns at their appointed times. This liturgical repetition serves us well, for in this way, we look forward to celebrating the various feasts and enjoying the rich hymnography of our Church, as well as hearing the Lord's magnificent teachings through His holy Word. The outsider looking in may see this as monotonous, however, the Church in her wisdom knows the value of our unchanging Holy Tradition, through which we believers benefit spiritually.
How many of us would think of complaining about the changing seasons of the year? Most people look forward to each coming season with its particular beauty and feel. Throughout our life we will continually experience the changing of the seasons, and will always accept and anticipate these changes with joy.
In the same way, each September 1st we joyfully welcome the new ecclesiastical year with its various feasts and fasts, culminating in the greatest of feasts – Holy Pascha. In fact, many Orthodox Christians have such great love for Lent, Holy Week and Pascha, that they begin anticipating the season as soon as Pascha is behind them!
But more important than the good feelings we get during the liturgical year, is the potential for spiritual transformation, which is part and parcel of keeping the various feast days and fast periods of our holy Orthodox Church. Remember, the goal of an Orthodox Christian in this world is achieving union with God through the vehicle of the Church. We seek to transform ourselves to reflect the reality of not being of the world, which is only possible by living the liturgical and sacramental life of the Church, and through our personal prayer lives. Our road to salvation is found through the Church and her Holy Tradition.
When we fully grasp and comprehend these concepts, we can then embrace the routine of the liturgical cycle of the Church, knowing that this is our way of growing from "glory to glory" as we seek spiritual growth in the image of Christ. Those who live the faith in this fashion never have a sense of liturgical monotony. In fact, neither do focused Orthodox Christians have concerns regarding the length of services, the repetitions heard within services, the addition of extra rituals after liturgy, and other related issues.
Oddly enough, even though some people may find things about church tedious and monotonous, in our secular lives, we deal with monotonous routines every day – some obligatory, others not. It's interesting to see how many people have very repetitive social routines – dinner out on a particular night each week, golf or bowling on other days, movie night with the family, etc., all of which take extreme importance on one's weekly calendar. Here the question must be asked – do we include worship of God along with our brethren in Christ at the top of the priority list?
If we don't have an established, solid routine for church attendance, perhaps we can make an "ecclesiastical new year resolution" in this regard. Many of us are extremely regular with Sunday church attendance. Perhaps we can attempt to expand our liturgical experience by attending other services offered during the week, especially on feast days. As I have mentioned in church, it would be a great blessing for families to celebrate the great feast days of our Lord and the Theotokos, by at least attending the Vespers held on the eve of these feasts. Considering the obligations of work and school, families could still plan ahead and come to Vespers to hear the hymns of the feast, and be able to at least venerate the icon of the feast and receive the Lord's blessing.
Let us all take a renewed look at our liturgical and sacramental routines, as well as our spiritual lives in general, as we enter this new ecclesiastical year. May we all pray
In Christ's love,
†Fr. Anthony
---
Church Services Hours
Sundays:
Orthros at 8:30 am; Divine Liturgy at 9:45 am
Weekdays:
Orthros at 9:00 am; Divine Liturgy at 10:00 am
Great Vespers:
Saturdays at 6:00 pm
---
Online Bill Pay
The Annunciation Church offers an online bill pay service for the convenience of our parishioners. Click on the links below to fulfill your Stewardship or make other payments by credit card.
Donations (in memory of, floral, other)
---
Contact Information
Annunciation Greek Orthodox Church
457 Oak Street
Brockton, MA 02301
508-559-0910
Directions:
From Route 24 take Exit 18B (Route 27 North - Stoughton).
At lights take a right on to Pearl Street.
At second set of lights take a right on to Oak Street.
Drive 1 mile. The church is on the left. Welcome!
Office hours:
Monday, Wednesday and Friday from 10:00 am to 2:00 pm
Tuesday and Thursday from 9:00 am to 1:00 pm
Rev. Fr. Anthony Evangelatos - Presiding Priest
priest@annunciationbrockton.org
Office - office@annunciationbrockton.org
Join the Annunciation Church - Brockton E-mail List »
For questions or comments concerning this web site please contact the Webmaster at
helpdesk@annunciationbrockton.org
Online Chapel